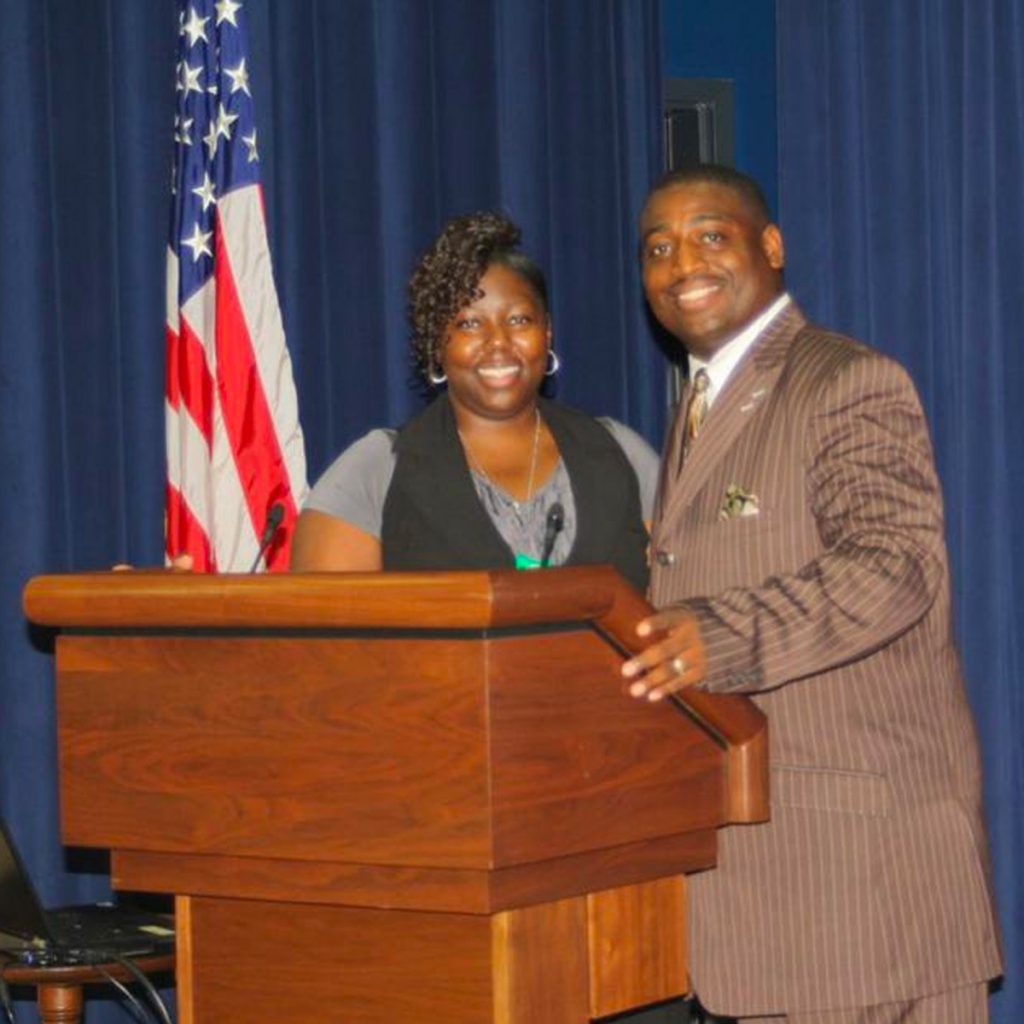 Meet Quentin T.
Quentin T. Howell, successful local business owner, is a native of Baldwin County. He and his wife, Latonya N. Howell, both run Howell's Medical Equipment & Supply, a business that Mr. Howell started in college, after transitioning from the Naval Reserve Officer Training Corps. While in college, he also started a house rental business and became a very successful radio talk show host. As an entrepreneur, Mr. Howell also began diligently working throughout the community. He was elected president of his class at Savannah State University and he is also an active member of the Litway Baptist Church family. As a member of Litway Baptist Church, Mr. Howell worked throughout the community on numerous issues that affected the citizens. Whether it was taking students to church, starting numerous mentoring programs, volunteering in the local school systems, including at risk schools, or working with many grass root programs throughout the Savannah area, he could always be found giving to his community. After extending his business to Middle Georgia, Mr. Howell started co-hosting a radio talk show on Love 103.7 FM. After college, Mr. Howell married his high school sweetheart and love of his life, Latonya N. Howell. Now in addition to both Quentin T. and Latonya N. Howell running two successful businesses, Quentin T. also hosts the largest radio talk show, "The Talking Straight show with Quentin T. Howell," in the Middle Georgia area.
In 2016, Mr. Howell also started hosting the largest gospel radio show in the Middle Georgia area, "Gospel Explosion," on Sunday mornings, also on Love 103.7 FM.
Latonya and Quentin T. Howell participated in a wave of new leadership across our country when in 2008, 2012, and 2016 they ran for delegates to the Democratic National Convention. They represented the state of Georgia at all three conventions as attendees and delegates in Denver, Colorado; Charleston South Carolina and Philadelphia, Pennsylvania. In Philadelphia, Quentin T. Howell was elected the whip of the Georgia delegation. Quentin T. Howell also was asked by the Ga. State Democratic leadership and the White House to pick and lead a delegation of concerned citizens and community leaders to attend the " Rural Ga Initiative Community leaders ", a program where the President of the United States, The Honorable Barack Obama listened to leaders from Georgia about issues, problems and solutions.
In 2015, Quentin T. Howell was appointed to the Milledgeville / Baldwin county Development Authority by the Baldwin county board of commissioners. In 2018 Mr. Howell was reappointed the Development Authority by the city of Milledgeville. This Development Authority is charged with bringing and fostering industry in Baldwin County with real careers for the citizens of this community.
Mr. Howell also serves as an elected officer and member of multiple political, civic, and community based boards, clubs and organizations. These organizations carry multiple roles in the Middle Georgia area, including maintaining a county wide mentoring program for the youth of the Baldwin County School system. In addition to working with the youth of our community, Mr. Howell has led many organizations in creating job and career forums in Milledgeville. Baldwin County and the City of Milledgeville along with the work these organizations have done led by Mr. Howell has led to the naming of the last week of March as, "Job Creation Week"
Quentin T. Howell is a saved born again Christian, who stands for Christian principles. He continues his membership at Litway Missionary Baptist Church of Savannah, Georgia and continues his lifetime membership with Second Beulah Missionary Baptist Church of Sparta, Georgia. Mr. Howell is a conservative Democrat, who has spent years working tirelessly in the Milledgeville and Middle Georgia communities. He has sponsored and participated in numerous food and clothing drives, as well as job and employment forums in the communities. Mr. Howell exerts a strong belief that Baldwin and Putman counties can move forward with new leadership. He also believes that this leadership must understand that small businesses are the life blood of this country, and that tax incentives must be given to small business owners with growth for state industry.